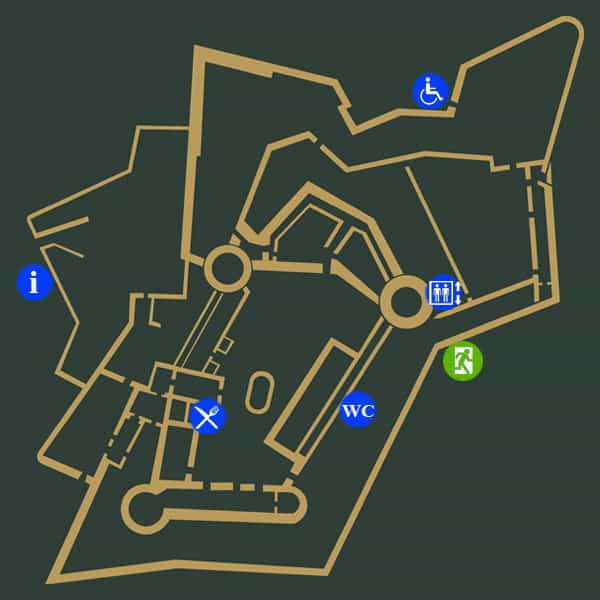 Bohus Fortress has never been captured during its 14 siege attempts and it was built to be extremely difficult to enter. However, the Swedish Property Agency has high ambitions when it comes to making the facility accessible to as many people as possible.
For a more detailed description, click on the link to the Accessibility Database.
In May 2012, a new elevator was installed which can take wheelchair-bound visitors or visitors with a pram between the different levels of the fortress. The lift is easily manoeuvred and accessed via the eastern grid gate where there is also disabled parking for two cars. From there, a newly laid path leads to the elevator. However, there are still many places in the fortress that are difficult to access.
To open the lattice gate and access the lift, contact the staff at the fortress entrance: 072-307 17 77
Your dog is welcome to come with you when you visit us, just remember that it must be kept on a leash at all times. A water bowl is adjacent to the toilet building and if you forgot dog bags, it is available to purchase at the entrance cottage.
To think about during the visit
Bohus Fortress is a wonderful place to visit, but can also be a dangerous place. We ask all visitors to respect barriers and fences, and adults must also have adequate supervision over their children. It is quite possible to bring prams, but note that the surface is uneven in places, and when it rains it can get slippery. It is not allowed to drink alcohol inside Bohus Fortress, neither during events nor regular opening hours. Dogs are only welcome in the fortress if they are kept on a leash and all feces must be picked up and thrown in the exposed rubbish bins.
Keep in mind that the fortress is a ruin that is mostly in the open air and that the ground is both rocky and uneven. In bad weather there is protection to seek in the following places:
On stage, under the sail.
In the magazine (entrance from the stage)
At the service house (WC, HWC)
The Russian vault, by the pond
The casemates, by the pond
In the tower Father's hat
In the tower Mother's hat
Toilets are inside the fortress, one of which is handicapped accessible. At the toilets there is a defibrillator, fire extinguisher and fire blanket. First aid kits are available in the entrance shop and in the service house.